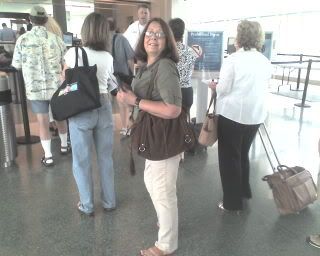 As a matter of fact, she has left Tennessee. (sniff sniff) She wants to stay but she has some "things" to tidy up. See, she's the nanny for her sister's triplet boys and has basically raised them since they were born. Without getting into too much detail, she hasn't been treated well or compensated adequately for a while. Hopefully things will change because they'll have learned to appreciate her while she was away for two weeks, visiting me. We'll see.
You'd like my mom. She's very cool, funny, and will bend over backwards to be helpful. She just spent two weeks with me and we got along just fine, watching movies together and watching her have fun with my kids. Of course, she's still a mom and so she does "mom" things like remind me to dress the kids this way or that so that the kids will be safe. I have three kids and I haven't manage to put them in danger yet. (smile) Then she's mother's me on occasion. "You drink too much coffee," she says. "Yes mom, as a matter of fact, Juan Valdez recently named his donkey after me." At least she doesn't like vegetables either so she doesn't hound me to eat them (smile.)
We had SO MUCH FUN while she was here, though. We went and played mini golf over in Pigeon Forge, TN with friends and I took a picture of her with the boys:
My girlie girl had such a good time playing with her friend. I LOVE to see her smile and laugh out loud. AS a matter of fact, if you tickle her long enough, her laugh will get higher and higher pitch until you can no longer hear it. It's really quite funny to see her mouth open in a "laughing" formation, but nothing come out.
Of course, I have noticed that the neighborhood dogs start howling:
Then we went to Dollywood's Splash Country. They had this really pretty waterfall and beautifully painted horse and my daughter said she wanted to get a picture taken with Grandma and the horse:
Of course, the water was frozen and my girlie turned blue!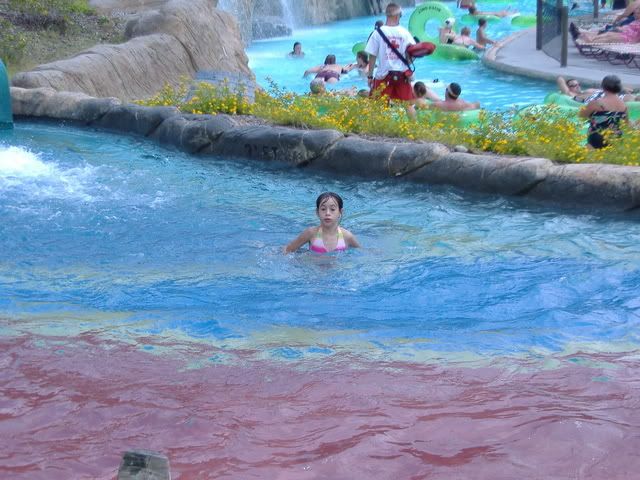 After a while, everybody got hungry so I got them all some chili dogs.
So have you ever seen a seven year old eat a chili dog WITHOUT getting messy? I know, neither have I, so even he decides he's too messy after eating the hot dog, so what does he do?
Watch:
Anyways, I gotta run out and take care of stuff. Later on I'll swing by and see what you've all been up to!