Well, I thought I'd be posting pictures of sleeping children, but those will have to wait a while because I had one CRAZY weekend. Why? Because my oldest boy turned 11 on Saturday and we celebrated and did so much that very little sleeping was done.
Did I mention that my mom is in town? She almost always comes for the kids birthday and this time she came in on Thursday and we gone non stop since.
Here's a picture of the Birthday boy and I tried to get him to smile, but to no avail: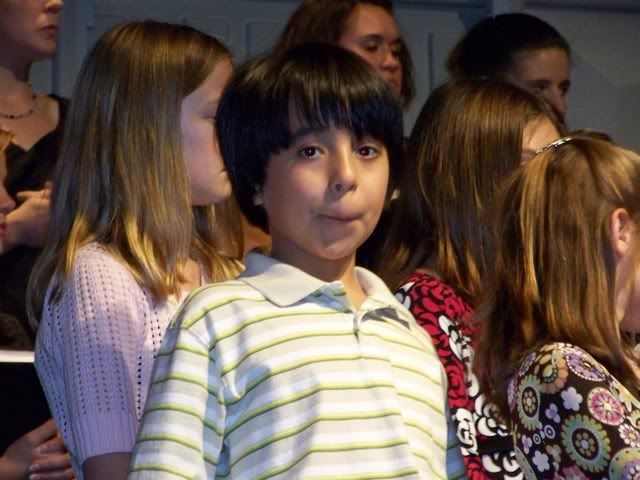 My mom got him a Guitar Hero 2 for the Playstation and he played it for a while. Then the other two tried it and decided they would do better together: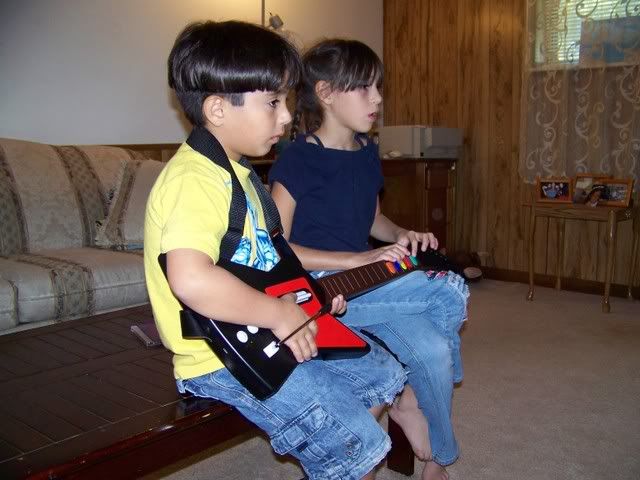 Next, he wanted to go to the Dixie Stampede to see the show and have a great dinner. He has been asking for this since June so I couldn't say no. On the way there, in Pigeon Forge, I saw this amazing Scarecrow!
We finally made it to the Dixie Stampede and the kids got very excited. First there was a pre show where you could drink some slushies and eat peanuts:
Then we were moved to the main room which was sort of a rodeo type place and we were fed a wonderful dinner while watching an even more wonderful exciting show!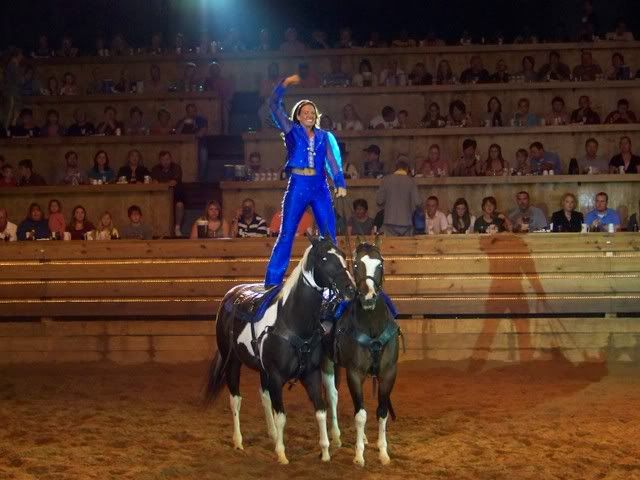 The thing was half the audience sat on the "North" side while the other sat on the "South" side. The show was really a set of competitions, North against South. We were sitting on the North side. There was even an ostrich race!
The rivalry was serious business. Even in the bathroom you had to be careful:
The North eventually won by a slim majority and the kids went wild!!! Of course, my little buddy went to all the pretty girls to get their autographs.
You ever hear those news stories about some 2nd grader who was caught under the stairs kissing a 5th grader? I'm hoping I don't get that phone call from the principle.
Anyways, it was a very exciting and wonderful birthday which ended with my big 11 year old boy giving me a great big hug and saying, "this was the best birthday I've ever had dad. Thanks!" You know, you can't pay enough money for something like that.
Oh, I almost forgot. On the way out of the Dixie Stampede, Dolly Parton said goodbye.