Has it really been over 9 days since I've posted anything on my blog??? I have been slacking big time!
Well, to tell you the truth, it has been very busy and also a very frustrating week and the hard stuff had made it difficult to blog even when I did have a little time. There are some very difficult things going on right now and I can't talk about it, not yet anyways, but I am trying to provide a good and meaningful life to my kids when they're with me because they're going through a difficult time. Please keep them in your thoughts and prayers, ok? Thanks.
Last weekend we went to Knoxville again and lucked out because there was this very cool event going on!
It was part of this Bikerfest event and it was a lot of fun because there was an "overboard" competition, I think it was called. The kids sat around and waited patiently for the event to start:
Of course, if you're going to be near water, you can't help but stick your feet in the water!
Here is one of the competitors ready to go:
So what did the competition look like when it finally started? Actually, it was very cool! A few guys did wipe out in the worst way, but lots of them actually did some very cool stunts in order to get more points. Here's one guy who made it.
Pretty cool, huh? Afterwards, we walked around and had the best frozen lemonades I've tasted in a long time. My girlie then saw something she loves to do, and that's climb a wall!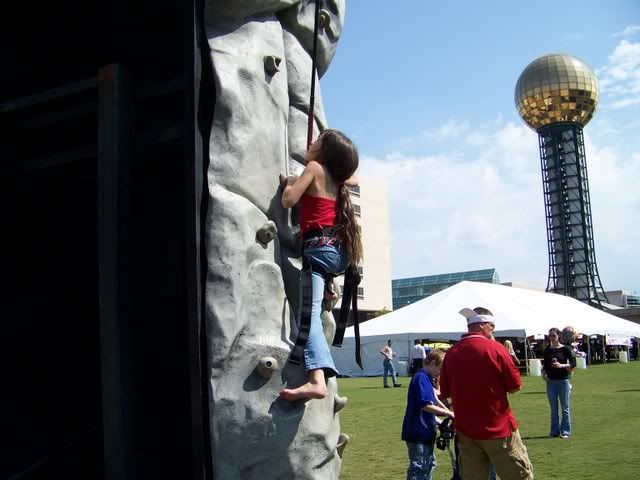 So, as you can see, a gool time was had by all. That's it for now. See you folks in a bit when I go visit you after all these days while I was out.