You turned seven yesterday, my little buddy, and I simply cannot believe what an impact you have had on my life, and everyone else's, for that matter. You are so special and mean so much to me that when you leave my side, I instantly miss you and wonder what you're up to, hoping that you're having fun and enjoying life and learning from everything around you.

Know, little buddy, that your daddy will always be there, no matter what, to celebrate your birthdays, to make sure you're okay and to show you things, and to play with you and love you.

Dad...
----------------------
I have a friend who owns a boat and he was kind enough to invite me and the children over so that we could celebrate little buddy's birthday and it was so much fun! First, there was jumping off the dock into the lake:
Of course, you HAVE to push a friend into the lake with you or it wouldn't be any fun:
Then there was a VERY BIG EVENT for him; catching his very first fish! He was so proud of this that people watching had tears in their eyes.
Finally, it was birthday cake time with the friends: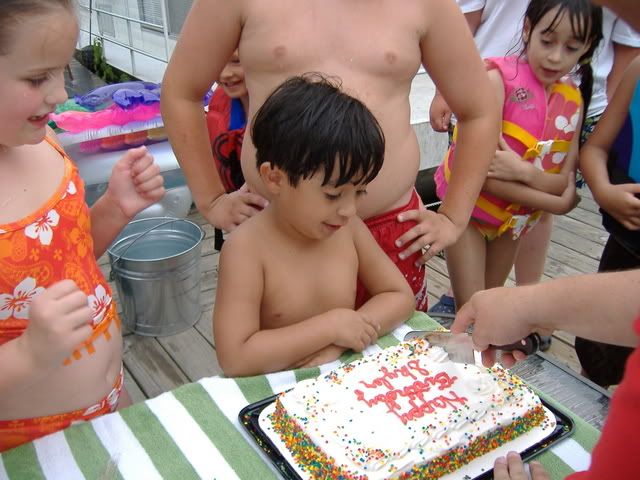 My goal was that he have a memorable and fun seventh birthday and swimming in the lake with his friends was fun (he told me so) and catching his first fish was very memorable, at least for all of us watching him, but had you seen his excited face and his little voice yelling out for all to hear of his wonderful feat, you'd have to believe he'll remember that as well.